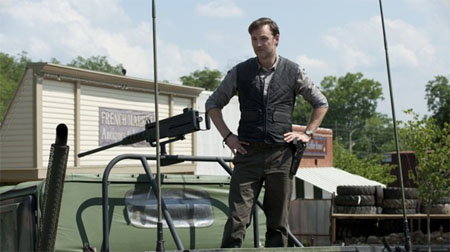 En pleno parón invernal de su tercera temporada, la cadena AMC ha anunciado la renovación de The Walking Dead por una cuarta temporada, una noticia totalmente previsible teniendo en cuenta que se ha convertido en una de las series más vistas de los EEUU a pesar de emitirse en una televisión por cable.
Sin embargo, no todo son buenas noticias para los seguidores de la adaptación del cómic de Robert Kirkman, ya que junto con la esperada renovación la cadena también ha anunciado el adiós de Glen Mazzara como showrunner de la serie. Hay que recordar que Mazzara fue el encargado de sustituir a Frank Darabont cuando éste abandonó la serie durante la segunda temporada.
Aunque como suele ser habitual las partes han declarado que la despedida de ha sido de común acuerdo, se rumorea que Glen Mazzara no estaba feliz en la serie, motivo que llevó a la cadena a no anunciar la renovación de The Walking Dead después del primer o segundo episodio, como suele ser habitual. Parece que en la AMC se está convirtiendo en costumbre que los responsables de sus series de éxito acaben renunciando después de poco tiempo ya que, además de los ya mencionados Frank Darabont y Glen Mazzara, también ocurrió lo mismo con Jason Horwitch, que abandonó Rubicon durante su primera y única temporada, y más recientemente con John Shiban, showrunner de Hell on Wheels, que ha renunciado al finalizar la segunda temporada.
Fuente: Deadline.