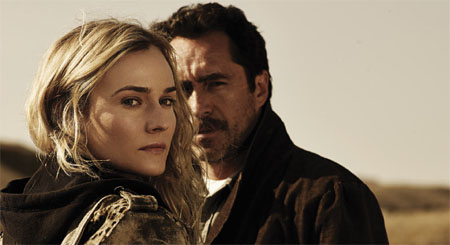 El canal por cable FX ha hecho oficial la renovación por una segunda temporada de The Bridge, adaptación americana de la serie sueco-danesa Bron. La cadena ha encargado 13 nuevos episodios de la serie que serán emitidos el próximo verano.
The Bridge, escrita por Meredith Stiehm (Caso abierto, Homeland) y Elwood Reid (Undercovers, Hawaii 5-0), está centrada en Sonya North (Diane Kruger) y Marco Ruiz (Demian Bichir), dos detectives de los Estados Unidos y Méjico que deben trabajar juntos para intentar atrapar a un asesino en serie que mata a ambos lados de la frontera.
La primera temporada de The Bridge ha conseguido reunir frente al televisor a una audiencia media de 3,65 millones de espectadores por capítulo, convirtiéndose en el nuevo drama más seguido en verano en la televisión por cable americana entre los espectadores de 18 a 49 años, una de las franjas más codiciadas por los anunciantes.
Fuente: TVfanatic.