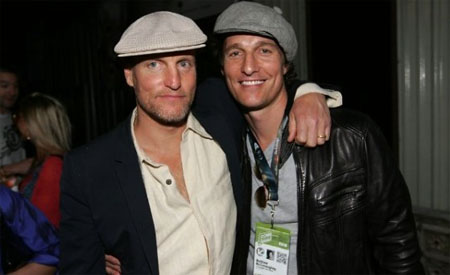 La HBO ha dado luz verde a la producción de True Detective, una nueva serie policiaca protagonizada por Matthew McConaughey y Woody Harrelson que había sido ofrecida a varios canales de pago en las últimas semanas.
True Detective, cuya primera temporada se compondrá de un total de ocho episodios, está centrada Rust Cohle (Matthew McConaughey) y Martin Hart (Woody Harrelson), dos detectives de Louisiana que tratan de dar caza a un asesino en serie durante un periodo de 17 años. La acción transcurrirá paralelamente entre los años 1995, cuando ambos detectives investigan un extraño asesinato, y 2012, fecha en la que se reabre el caso.
Junto al anuncio de este nuevo proyecto, la HBO también ha comunicado la renovación de dos de sus nuevas series de esta temporada: Veep y Girls. Veep, creada por Armando Iannucci, guionista y director de In the Loop, está protagonizada por Julia Louis-Dreyfus en el papel de Selina Meyer, una antigua senadora que es nombrada vicepresidente de los Estados Unidos. Girls es el nuevo proyecto de Judd Apatow, creador de las series de culto Freaks and Geeks y Undeclared y la joven Lena Dunham, que también ejerce como la protagonista de esta comedia.
Fuente: Deadline.