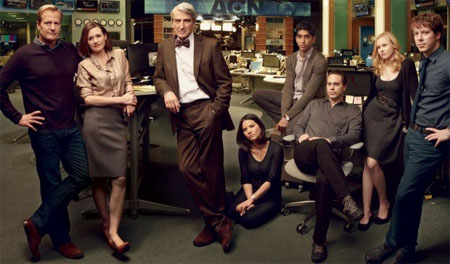 La HBO ha lanzado un nuevo tráiler de The Newsroom, la nueva serie de Aaron Sorkin, creador de la aclamada El Ala Oeste y ganador de un Oscar por el guión de La Red Social, que podremos ver a partir del próximo 24 de junio.
The Newsroom, ambientada en la redacción de un programa de noticias, está protagonizada por Jeff Daniels como el presentador y la británica Emily Mortimer como la productora del programa. Junto a ambos, tambien forman parte del reparto de The Newsroom Jon Tenney, Sam Waterston, Olivia Munn, John Gallagher Jr., Dev Patel, Alison Pill y Thomas Sadoski, así como la veterana Jane Fonda, que interpretará a la directora ejecutiva de la cadena de televisión a la que pertenece el canal de noticias donde trabajan los protagonistas de The Newsroom.
Podéis ver el nuevo tráiler de The Newsroom después del salto.