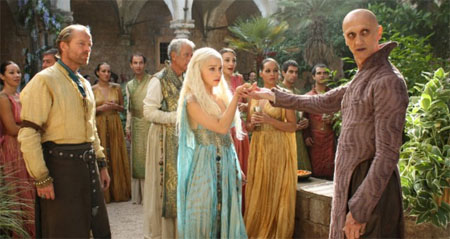 Cinco semanas después de su estreno en la HBO, la segunda temporada de Juego de Tronos sigue manteniendo la gran audiencia que la ha convertido en una de las series más vistas dentro de la programación por cable americana.
The Ghost of Harrenhal, el quinto episodio de esta nueva temporada de la serie basada en los libros de George R.R. Martin, consiguió reunir frente al televisor a más de 3,9 millones de espectadores (4,7 millones contando la posterior repetición), superando la audiencia de la premiere y convirtiéndose en el episodio más visto de la segunda temporada de Juego de Tronos.
Bastante peor les fueron las cosas a Girls, la nueva comedia de Judd Apatow (Freaks and Geeks) y Lena Dunham, que solo consiguió una audiencia de 816 mil espectadores. A pesar de sus bajas cifras de audiencia, Girls fue renovada hace unos días junto a Veep, la nueva serie de Julia Louis-Dreyfus.