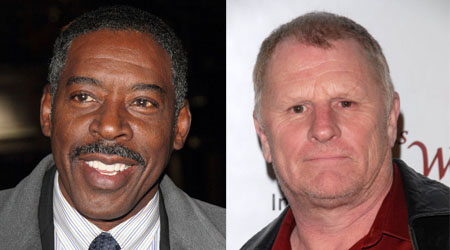 Los actores Ernie Hudson y Gordon Clapp son las últimas incorporaciones al reparto de Lost Angels, la serie del canal por cable TNT anteriormente conocida como L.A. Noir producida, escrita y dirigida por Frank Darabont, director de películas como La Niebla o Cadena Perpetua.
Lost Angels, basada en el libro L.A. Noir: The Struggle for the Soul of America's Most Seductive City del escritor John Buntin, nos mostrará los bajos fondos de la ciudad de Los Angeles durante la décadas de los 40 y los 50 a través de del enfrentamiento que mantuvieron el mafioso Mickey Cohen y el Jefe de Policía William Parker.
Ernie Hudson, que ha aparecido en series como Ley y orden y Last Resort, dará vida a Bunny, un mafioso que trabaja junto a Bugsy Siegel y que controla los clubs nocturnos a lo largo de Central Avenue. Gordon Clapp, al que hemos podido ver en series como Policías de Nueva York y Damages, interpretará el papel de un antiguo criminal que acaba de salir de prisión y trabaja como camarero en un restaurante italiano.
En el reparto de L.A. Noir podremos ver a dos veteranos de The Walking Dead, la anterior serie en la que trabajó Frank Darabont, como Jon Bernthal, que dará vida a Joe Teague, un antigua marine veterano de la II Guerra Mundial que ahora trabaja en el Departamento de Policía de Los Angeles; y Jeffrey DeMunn, que interpretará a Hal Morrison, el detective al mando de la una nueva brigada contra el crimen organizado. Junto a ellos, también forman parte del reparto de L.A. Noir Jeremy Strong, que interpretará a Mike Hendry, el segundo hombre al mando en la brigada de Morrison; Milo Ventimiglia, que dará vida a Ned Stax, un veterano de la II Guerra Mundial que trabaja como abogado para la mafia; y Neal McDonough, que interpretará el papel del Capitán William Parker.
Fuente: Deadline.