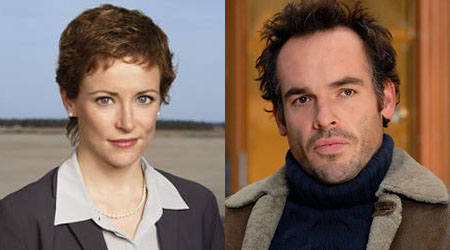 Leslie Hope (24, El Mentalista) y Paul Blackthorne (The Dresden Files, Mujeres de Manhattan) se han unido al reparto de The River, un nuevo piloto de la ABC creado por Oren Peli (director de Paranormal Activity) y Michael R. Perry (guionista de Paranormal Activity 2).
The River está centrada en Lincoln Cole, interpretado por Joe Anderson, un joven que organiza una expedición de rescate para encontrar a su padre, Emmet Cole, un explorador desaparecido en el Amazonas mientras rodaba un documental al que da vida Bruce Greenwood.
Leslie Hope interpretará el papel de Tess, la mujer de Emmet Cole que, seis meses después de su desaparición, recibe una señal de su radiobaliza por lo que, segura de que todavía está vivo, convence a su hijo para liderar una misión de rescate. Paul Blackthorne dará vida al productor de los documentales que estaba rodando Emmet Cole cuando desapareció.
El piloto de The River será dirigido por el español Jaume Collet-Serra, cuya carrera en Hollywood marcha viento en popa después de que su última película, Sin Identidad, se haya convertido en un éxito de público llegándose a colocar número 1 de la taquilla americana.