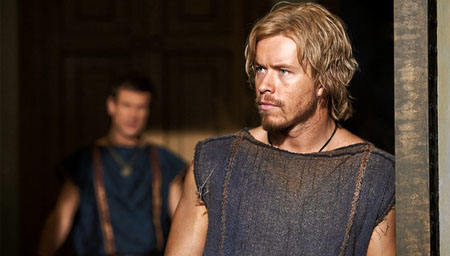 A las puestas del estreno de Spartacus: War of the Damned, el próximo 25 de enero, la tercera y última temporada de Spartacus, el canal por cable Starz se encuentra barajando la posibilidad de producir en spinoff de la serie creada por Steven S. DeKnight que se ha convertido en el buque insignia de la cadena.
Esta nueva serie estaría centrada en la figura de Cayo Julio César, personaje que será introducido en Spartacus: War of the Damned en la piel del actor australiano Todd Lasance como uno de los hombres que acompañarán a Marco Licinio Craso, al que da vida el británico Simon Merrells, en su misión de aplastar la rebelión de esclavos liderada por Espartaco.
Debido a que Steven S. DeKnight se encuentra ocupado preparando Incursion, un nuevo proyecto de ciencia-ficción para el canal Starz centrado en un grupo de soldados humanos envueltos en la guerra que la Tierra mantiene con una raza alienígena, el encargado de ponerse a los mandos de este spinoff será Rob Tapert, productor de Spartacus: Blood and Sand y Spartacus: Gods of the Arena.
Fuente: Deadline.