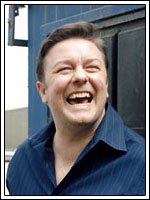 Aurum se ha hecho con los derechos de la serie de Rick Gervais, Extras, para editarla en dvd en España.
Yo todavía no he tenido el tiempo necesario para verla, pero con que fuese la mitad de buena que The office, del mismo creador, merecería la pena.
Las dos primeras temporada de la serie, una coproducción entre la BBC y la HBO, serán editadas durante la primera mitad del 2008.

Aurum ha adquirido los derechos para la edición en DVD en nuestro país de la
serie de televisión Extras, una exitosa coproducción de la BBC británica y
de la HBO norteamericana. Su actor protagonista, Ricky Gervais, se llevó el
galardón al mejor actor de serie de comedia en los premios Emmy de este año.
Ricky Gervais y Andy Millman, ceadores de la premiada The Office,
interpretan a Andy y Maggie, dos extras en busca de la fama y el dinero que
proporcionan el mundo del cine y la televisión, pero que siguen esperando a
que les den una línea de diálogo en sus interminables jornadas por los
rodajes. Eso sí, en su día a día se topan con las grandes estrellas
protagonistas de las películas en las que ellos desempeñan un pequeño papel.
La lista de actores invitados en la serie incluye nombres tan destacados del
cine de Hollywood como Orlando Bloom, Ben Stiller, Kate Winslet, Samuel L.
Jackson, Patrick Stewart, David Bowie, Ian McKellen y Daniel Radcliffe,
entre otros.
Las dos primeras temporadas de Extras, cuya emisión por televisión en
nuestro país está prevista a cargo de La Sexta, aparecerán en DVD durante la
primera mitad de 2008.
Fuente: nota de prensa