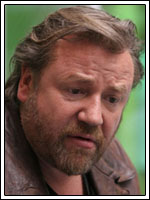 Last of the Ninth, una de las nuevas series que prepara la HBO para la próxima temporada, ya tiene protagonistas. Los elegidos han sido Ray Winstone, al que podemos ver actualmente en Indiana Jones y el Reino de la Calavera de Cristal, y Jonah Lotan, que ha aparecido en series como 24 o CSI: NY.
Last of the Ninth es una serie de corte dramático que se centra en el departamento de policía de Nueva York del año 1972. Jonah Lotan interpretará a Joe Dalton, un joven veterano de Vietnam que entrará en el departamento como infiltrado para investigar la corrupción policial reinante. Ray Winstone dará vida a John Giglio un veterano detective que será el mentor del joven Dalton.
Last of the Ninth es obra de David Milch, creador de series policiacas tan imporantes como Canción triste de Hill Street o Policías de Nueva York, en el que será su tercera serie para la HBO tras Deadwood y John from Cincinnati.
El propio Milch escribirá el guion del piloto, que será dirigido por Carl Franklin.