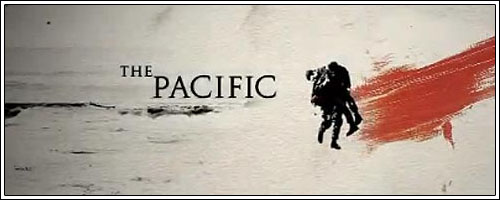 La HBO ha lanzado un nuevo y espactacular trailer de la miniserie The Pacific, en la que seguiremos a las tropas norteamericanas en la campaña del Pacífico durante la II Guerra Mundial.
The Pacific, que se estrenará en marzo del próximo año, está producida por Steven Spielberg, Tom Hanks y Gary Goetzman, el mismo equipo que estuvo detrás de Hermanos de Sangre.
Para dirigir los 10 capítulos de los que consta la miniserie, la cadena ha confiado en directores como Timothy Van Patten (Los Soprano, Roma), Jeremy Podeswa (The Tudors, Carnivale) o Carl Franklin. Este último ha sido confirmado también como guionista y director de la miniserie The Black Panthers, también de la HBO.
En cuanto a los protagonistas, los elegidos han sido James Badge Dale, Joe Mazzello y Jon Seda que interpretarán a los marines Robert Leckie, Eugene Sledge y John Basilone, respectivamente.
Podéis ver el nuevo trailer después del salto.