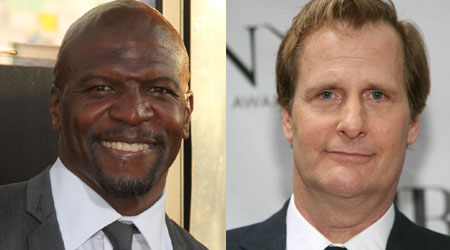 El actor y antiguo jugador de fútbol americano Terry Crews, al que podremos ver próximamente en la segunda entrega de Los mercenarios de Sylvester Stallone, ha firmado un acuerdo con la HBO para aparecer en cinco episodios de  The Newsroom, la serie de Aaron Sorkin (El Ala Oeste).
Al igual que Studio 60, el anterior proyecto televisivo de Sorkin, The Newsroom está centrado en la producción de un programa de televisión, en este caso un espacio de noticias. La serie está protagonizada por Jeff Daniels como el presentador y la británica Emily Mortimer como la productora del programa. Terry Crews, que hará su debut en el sexto episodio que se emitirá el día 29 de este mismo mes, interpretará el papel del guardaespaldas de Will McAvoy, el personaje al que da vida Jeff Daniels.
La noticia de la incorporación de Terry Crews al reparto de The Newsroom llega tan solo un día después de que la HBO hiciera oficial la renovación de la serie por una segunda temporada, a pesar de que sus cifras de audiencias no son todo lo buenas que se podía esperar.
Fuente: TVLine.