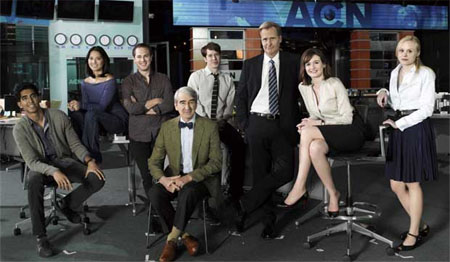 Con tan solo dos episodios emitidos, la HBO ha anunciado la renovación de The Newsroom, la nueva serie de Aaron Sorkin (El Ala Oeste), por una segunda temporada.
The Newsroom, centrada en la redación de un programa noticias, está protagonizada por Jeff Daniels como el presentador y la británica Emily Mortimer como la productora del programa. El estreno de The Newsroom consiguió reunir frente al televisor a 2,1 millones de espectadores, cifra inferior a otros estrenos del canal por cable como Juego de Tronos o Boardwalk Empire, pero suficiente como para asegurar su continuidad.
Junto a la renovación de The Newsroom, la HBO también ha dado luz verde a una temporada adicional de True Blood y Eastbound and Down. El estreno de la quinta temporada de True Blood, que tuvo lugar el pasado 10 de junio, consiguió reunir frente al televisor a 6,3 millones de personas, lo que mantiene a la serie creada por Alan Ball como la más vista del canal por cable. Por su parte, el ultimo episodio de la tercera temporada de Eastbound and Down, la comedia protagonizada por Danny McBride, consiguió una audiencia de 1,6 millones de espectadores.
Fuente: TVLine.