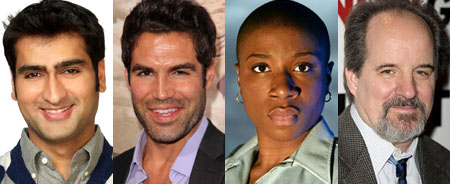 Kumail Nanjiani (Portlandia), Jordi Vilasuso (All My Children), Aisha Hinds (True Blood) y John Pankow (Episodes) se han unido al reparto del nuevo piloto de la cadena USA Network que nos llegará de la mano de Nicolas Falacci y Cheryl Heuton, creadores de Numb3rs.
Este nuevo proyecto, basado en un relato corto de Elmore Leonard publicado dentro de su antología When The Women Come Out To Dance, está centrado en Billy (Bryan Greenberg), un hombre de negocios de Miami que, decidido a empezar una carrera política y con el objetivo de aumentar sus posibilidades de ser elegido por los electores hispanos, se casa con Lourdes (Stephanie Sigman), una mujer colombiana con un turbulento pasado.
Kumail Nanjiani interpretará el papel de Alfred Dalton, un agente de aduanas e inmigración encargado de investigar el matrimonio de Billy y Lourdes. Jordi Vilasuso dará vida a Mario Morales, el fiscal del distrito de Miami que está casado con la antigua prometida de Billy (Amanda Schull). Aisha Hinds interpretará a Rosie, una empleada de Fresh Air Cleaners, la compañía de limpieza de la madre de Billy que trata de sacar la empresa adelante después de la muerte de ésta. John Pankow interpretará el papel de Herman Mackey, un poderoso constructor que se vale de sobornos para conseguir contratos.
Fuente: TVLine.