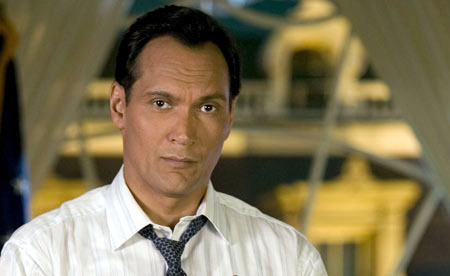 El actor Jimmy Smits, al que no vemos en televisión desde la cancelación en 2010 de Juez sin causa, aparecerá en la quinta temporada de Sons of Anarchy, la serie del canal por cable FX cuyo estreno está previsto para el próximo mes de julio.
Jimmy Smits, que aparecerá en un arco de varios episodios de la nueva temporada de la serie creada por Kurt Sutter (productor ejecutivo de The shield), interpretará el papel de Neron "Nero" Padilla, un gangster latino que acabará convirtiéndose en una especie de mentor para Jackson "Jax" Teller, al que da vida Charlie Hunnam.
Jimmy Smits es todo un habitual de la pequeña pantalla donde ha intervenido en series como La ley de Los Angeles (por la que ganó su único premio Emmy hasta la fecha), Policías de Nueva York, El ala oeste, Cane o Dexter, en la que llevó a cabo una genial interpretación del fiscal de distrito Miguel Prado.
Fuente: Deadline.