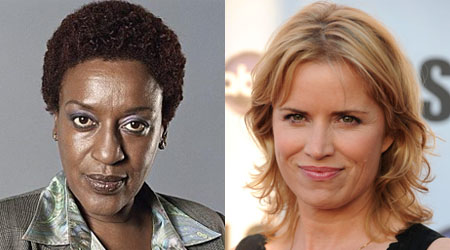 La actriz CCH Pounder, que interpretó el papel de Claudette Wyms en The Shield, ha llegado a un acuerdo con el canal por cable FX para aparecer en un arco de varios episodios de la sexta temporada de Sons of Anarchy, que podremos ver a partir del próximo otoño.
CCH Pounder, que hará su debut en el segundo episodio de la nueva temporada de Sons of Anarchy, interpretará el papel de Tyne Patterson, una fiscal del distrito del Condado de San Joaquín que se cruzará en el camino de SAMCRO, la banda de motoristas liderada por Jackson "Jax" Teller, el personaje al que da vida Charlie Hunnam.
La incorporación de CCH Pounder se une a la ya anunciada de Kim Dickens, a la que hemos podido ver en series como Deadwood o Treme, que interpretará a Colette Jane, una ambiciosa y seductora madame. La sexta temporada de Sons of Anarchy también supondrá la vuelta de viejos conocidos como Jimmy Smits, Donal Logue y Drea de Matteo.
CCH Pounder se une así a la larga lista de actores procedentes de The Shield que han aparecido más tarde en Sons of Anarchy, cuyo creador, Kurt Sutter, fue guionista y productor ejecutivo de aquella. Antes que Pounder ya formaron parte del reparto de Sons of Anarchy Jay Karnes, Walton Goggins, Benito Martinez, David Rees Snell y Kenny Johnson.
Fuente: EW.