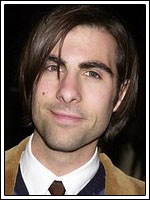 La HBO ha lanzado el primer trailer de Bored to Death, una nueva comedia protagonizada por Jason Schwartzman (Viaje a Darjeeling, Extrañas coincidencias).
Bored to Death se centra en Jonathan (Schwartzman), un escritor deprimido después de una dolorosa ruptura con su novia que decide dar un nuevo rumbo a su vida ofreciéndose como investigador privado, al más puro estilo de los personajes de las novelas de Raymond Chandler y Dashiell Hammett.
Además de Jason Schwartzman también participan en la serie Ted Danson (Damages) como el editor del protagonista y Zach Galifianakis (The Hangover)como un guionista de comics y amigo del personaje de Schwartzman.
La HBO tiene previsto estrenar Bored to Death el próximo septiembre.
Podéis ver el trailer después del salto.