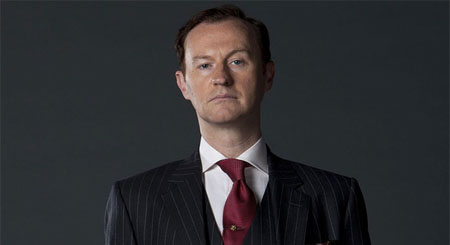 El actor Mark Gatiss, al que hemos podido ver en la británica Sherlock interpretando el papel de Mycroft Holmes, es la nueva incorporación al reparto de la cuarta temporada de Juego de Tronos, cuyo rodaje comenzó hace tan solo unos días en Irlanda del Norte.
Mark Gatiss es un habitual de la televisión británica, en la que, además de Sherlock, ha aparecido en series como Doctor Who o The League of Gentlemen, en las que también ha trabajado como guionista. Todavía no se ha desvelado el papel que interpretará Gatiss en esta nueva temporada de Juego de Tronos, aunque se especula que podría dar vida a Lord Mace Tyrell, Señor de Altojardín y padre de Loras (Finn Jones) y Margaery (Natalie Dormer).
La incorporación de Mark Gatiss al reparto de la cuarta temporada de Juego de Tronos se une a la ya anunciada Pedro Pascal (Graceland), que dará vida a Oberyn Martell, un noble de Dorne conocido como La Víbora Roja experto en venenos que acude a Desembarco del Rey para unirse al Consejo Real en lugar del Príncipe Doran, su hermano mayor. Esta nueva temporada supondrá también la vuelta de algunos viejos conocidos como Dominic Carter, que interpreta a Janos Slynt, el comandante de la Guardia de Desembarco del Rey que fue obligado a unirse a la Guardia de la Noche en la segunda temporada; Kate Dickie, que da vida a Lysa Arryn, la hermana de la asesinada Catelyn Stark; Owen Teale, que interpreta el papel de Alliser Thorne, el maestro de armas del Castillo Negro de la Guardia de la Noche; y Andy Beckwith, que da vida a Rorge, uno de los prisioneros de la Guardia de la Noche que viaja hacia el Muro en la segunda temporada junto con Arya.
Fuente: EW.