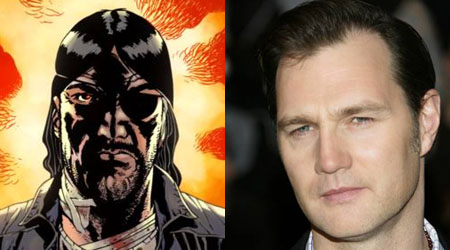 El actor inglés David Morrissey, todo un habitual en la televisión británica donde ha aparecido en series como Blackpool o la estupenda Red Riding, ha llegado a un acuerdo con el canal por cable AMC para unirse al reparto de la tercera temporada de The Walking Dead.
David Morrissey intepretará el papel del Gobernador, uno de los personajes más importantes del comic de Robert Kirkman en el que se basa la serie. El Gobernador es el líder de un asentamiento de supervivientes cuyo carácter despótico y cruel le llevará a un crudo enfrentamiento con Rick Grimes (Andrew Lincoln).
Antes del anuncio de la incorporación de Morrissey como el Gobernador, habían sonado nombres como los de Danny Trejo (Sons of Anarchy), John Hawkes (Deadwood) o el legendario Tom Savini. Además de nuevas incorporaciones también se rumoreó que el papel del Gobernador podía ser para Michael Rooker, que apareció en la primera temporada de The Walking Dead interpretando el papel de Merle Dixon.
Fuente: Screerant.