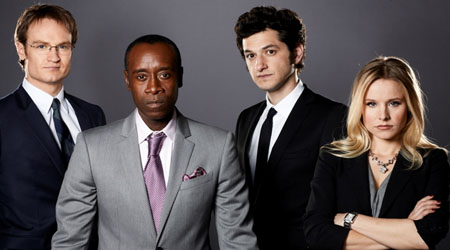 El canal por cable Showtime ha dado luz verde a la producción de dos nuevas series de cara a la próxima temporada. Las afortunadas han sido House of Lies y Homeland, que han recibido una orden de 12 episodios cada una que empezarán a rodarse el próximo verano.
House of Lies, una comedia negra basada en el libro de Martin Kihn "House of Lies: How Management Consultants Steal Your Watch and Then Tell You the Time", se centra en Marty, papel interpretado por Don Cheadle, un consultor dispuesto a utilizar cualquier método para conseguir que sus clientes logren sus objetivos. La protagonista femenina de House of Lies es Kristen Bell, que dará vida a Jeannie Van Der Hooven, una inteligente y ambiciosa joven que trabaja en la firma de Marty.
Homeland, basada en la serie israelí Prisoners of War, se centra en el sargento Scott Brody, al que da vida Damian Lewis, que regresa a casa recibido como un héroe después de pasar ocho años como prisionero de guerra en Baghdad. Sin embargo, la misteriosa vuelta de Brody despierta las sospechas de la agente de la CIA Carrie Anderson, interpretada por la actriz Claire Danes, que empieza a dudar sobre si realmente el sargento Brody ha estado retenido o si es miembro de un grupo terrorista que está preparando un atentado en suelo americano. Entre el reparto de Homeland también se encuentra Mandy Patinkin, en el que será su primer papel importante tras abandonar Mentes Criminales.
Fuente: Deadline.