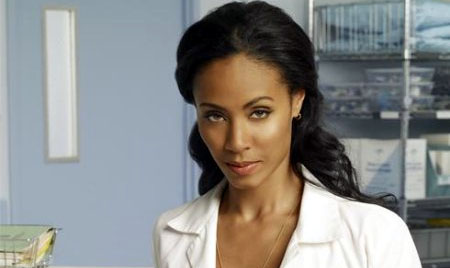 La actriz Jada Pinkett Smith, conocida sobre todo por interpretar a Niobe en las dos últimas entregas de la saga Matrix, es la última incorporación al reparto de Gotham, una nueva serie policíaca de la Fox producida por Bruno Heller, guionista de El mentalista, ambientada en la ciudad que sirve de marco a la mayor parte de aventuras de Batman.
Gotham estará centrada en James Gordon, personaje al que dará vida Ben McKenzie (The O.C. , Southland), una antigua estrella del fútbol americano y héroe de guerra que se enfrentará a sus primeros casos como detective del departamento de homicidios de la policía de Gotham. Jada Pinkett Smith interpretará el papel de Fish Mooney, una peligrosa y sádica gangster que dirige su organización criminal desde un club del que es propietaria.
La incorporación de Jada Pinkett Smith al reparto de Gotham se une a las de Robin Lord Taylor, que ha aparecido en series como Ley y orden o The Walking Dead, interpretará el papel de Oswald Cobblepot, más conocido como El Pingüino, un inteligente psicópata que oculta su sadismo detrás de una fachada de educación y buenos modales; Sean Pertwee, al que hemos podido ver en series como Camelot o The Tudors, dará vida a Alfred Pennyworth, el fiel mayordomo de la familia Wayne; Zabryna Guevara, vista en Burn Notice, interpretará a la Capitán Essen, la jefe de James Gordon en el Departamento de Homicidios de la Policía de Gotham; la galesa Erin Richards, que apareció junto a Christian Slater en Breaking In, interpretará el papel de Barbara Kean, una doctora de urgencias y prometida de Gordon; y Donal Logue, al que hemos podido ver en la última temporada de Sons of Anarchy, que interpretará el papel del detective Harvey Bullock, el compañero de Gordon, un policía de la vieja escuela dispuesto a saltarse las reglas para conseguir resultados.
Fuente: Deadline.