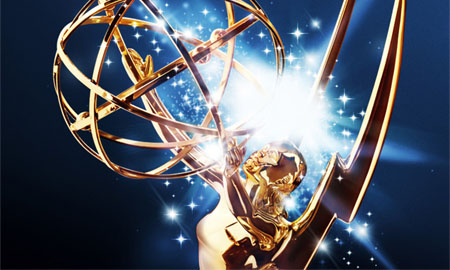 Esta madrugada ha tenido lugar en el Teatro Nokia de Los Angeles la 64ª edición de los Emmy, los premios anuales que honran a los mejores programas y series de televisión. En esta nueva edición, el cómico Jimmy Kimmel ha sido el encargado de conducir la ceremonia que ha coronado a Homeland y Modern Family como el mejor drama y la mejor comedia de la temporada respcetivamente.
En cuanto a actores principales, Jon Cryer se ha hecho con el galardón al mejor actor de comedia por su papel en Dos hombres y medio superando a Don Cheadle (House of Lies), Jim Parsons (The Big Bang Theory), Larry David (Curb Your Enthusiasm), Alec Baldwin (30 Rock) y Louis C.K. (Louie). Julia Louis-Dreyfus (Veep) ha sido galardonada en la categoría de mejor actriz de comedia donde competía con la ganadora del pasado año Melissa McCarthy (Mike and Molly), Edie Falco (Nurse Jackie), Zoey Deschanel (New Girl), Amy Poehler (Parks and Recreation), Lena Dunham (Girls) y Tina Fey (30 Rock).
En drama, Damian Lewis (Homeland) se ha alzado como mejor actor principal imponiéndose a Bryan Cranston (Breaking Bad), Jon Hamm (Mad Men), Hugh Bonneville (Downton Abbey), Michael C. Hall (Dexter) y Steve Buscemi (Boardwalk Empire). Claire Danes (Homeland) ha cumplido los pronósticos logrando el Emmy a la mejor actriz de drama por su papel en Homeland superando a Elisabeth Moss (Mad Men), Julianna Margulies (The Good Wife), Michelle Dockery (Downton Abbey), Kathy Bates (Harry's Law) y Glenn Close (Damages).
Como actores secundarios, Aaron Paul ha sido premiado por su papel en Breaking Bad y Eric Stonestreet se ha hecho con el galardón por su interpretación en Modern Family. Julie Bowen se ha vuelto a hacer con el Emmy a la mejor actriz secundaria de comedia por su papel en Modern Family y Maggie Smith (Downton Abbey) se ha alzado con el de mejor secundaria de drama.
El galardón ha la mejor miniserie o película hecha para la televisión ha sido para Game Change, que también se ha hecho con los premios a la mejor dirección y al mejor guión. Kevin Costner (Hatfields & McCoys) y Julianne Moore (Game Change) han sido elegidos como mejores actores principales. En secundarios, los triunfadores han sido Tom Berenger y Jessica Lange por sus papeles en Hatfields & McCoys y American Horror Story respectivamente.