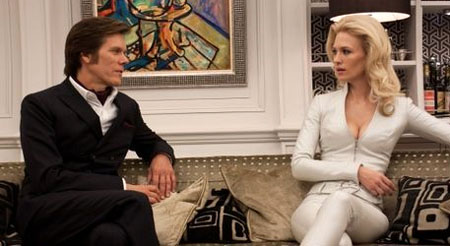 La cadena Fox ha llegado a un acuerdo con Marvel para desarrollar una nueva serie ambientada en el universo de los X-Men producida por el propio Bryan Singer que (por el momento) lleva el título de Hellfire.
Este nuevo proyecto, ambientado a finales de la década de los 60, se centrará en un joven agente especial que descubre como una ambiciosa mujer con increibles poderes se ha unido a un grupo de millonarios conocido como The Hellfire Club (El Club Fuego Infernal) con el objetivo de controlar el mundo. Sebastian Shaw y Emma Frost, dos de los líderes de The Hellfire Club, ya aparecieron en la cinta X-Men: primera generación interpretados por Kevin Bacon y January Jones.
Hellfire no es la única serie ambientada en el mundo de los X-Men que ha empezado a desarrollarse, ya que el canal por cable FX ha dado luz verde a Legion, un piloto centrado en el personaje de David Haller, un joven que después de llevar toda su vida luchando contra lo que él cree que son problemas mentales, empieza a sospechar que las voces y visiones que sufre podrían ser reales. En los cómics, David Haller, conocido como Legión, es el hijo de Charles Xavier, fundador y líder de los X-Men.
Fuente: Deadline.