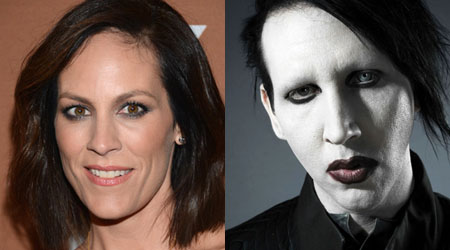 La actriz Annabeth Gish y el cantante Marilyn Manson son las primeras incorporaciones al reparto de la séptima y última temporada de Sons of Anarchy, la serie del canal por cable FX protagonizada por Charlie Hunnam.
Annabeth Gish, a la que en los últimos años hemos podido ver en series como Pequeñas mentirosas o The Bridge, interpretará el papel de Althea Jarry, la nueva sheriff de Charming. Jarry, con experiencia en la Unidad de Crimen Organizado de Stockton, pronto se da cuenta de que tendrá que trabajar junto con SAMCRO si quiere evitar que se desencadene aun más la violencia en Charming.
Por otra parte, el cantante Marilyn Manson dará vida a Ron Tully, un líder supremacista blanco al que Jax usa para expandir su base de poder. Curiosamente, Manson no será el primer músico que interpreta el papel de un lider racista en la serie ya que en la segunda temporada Henry Rollins, que ha formado parte de bandas como Black Flag y Rollins Band, apareció dando vida a A.J. Weston, uno de los líderes de la Liga de Nacionalistas Americanos, una organización supremacista que intentó hacerse con el control de Charming.
Fuente: EW.