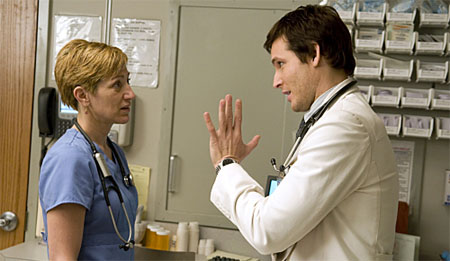 El canal por cable Showtime ha anunciado la renovación por una cuarta temporada de Nurse Jackie, la serie protagonizada por Edie Falco (Los Soprano). Esta renovación se une a la ya anunciada de The Borgias, que también volverá el próximo año.
Nurse Jackie ha promediado durante lo que llevamos de su tercera temporada 2,8 millones de espectadores, lo que unido a sus buenas críticas, especialmente por la interpretación de Edie Falco (que le valió un Emmy el pasado año), ha servido para que la cadena haya dado luz verde a su continuidad.
Por el contrario, Showtime ha decidido no renovar United States of Tara, la comedia creada por Diablo Cody y protagonizada por Toni Collette. La tercera temporada de United States of Tara tan solo está siendo seguida por 1,9 millones de espectadores, muy lejos de los 2,7 millones de la pasada temporada.
Fuente: TV Series Finale.