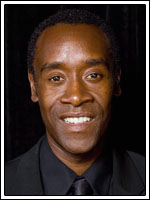 La cadena FX ha dado luz verde a la producción de March to Madness, una nueva serie producida por el actor Don Cheadle, al que veremos en la futura Iron Man 2, sobre un equipo de baloncesto universitario.
March to Madness nos mostrará los entresijos de un corrupto programa de baloncesto universitario a través de los ojos de su entrenador, un hombre íntegro que se verá forzado a actuar en contra de sus principios para llevar adelante al equipo.
El guión de esta nueva serie ha sido escrito por Joel Silverman mientras que Peter Segal (Superagente 86, 50 primeras citas) será el encargado de la dirección.
March to Madness no será la primera serie producida por Don Cheadle, ya que también participó como productor en la versión televisiva de Chash.