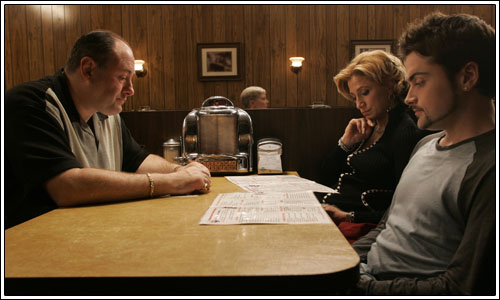 Si ayer conocíamos a los nominados para los Globos de Oro, hoy han sido los guionistas los que han anunciado a los nominados a sus premios, los WGA Awards. Me parece bastante curioso que vayan a celebrarse estos premios cuando la asociación que los convoca se encuentra en huelga.
En la categoría de dramas, además de series a menudo nominadas en otros premios como Los Soprano o Dexter, aparecen otras que no suelen estar tan reconocidas como The wire o Friday night lights. (Nota personal: por fin unas nominaciones en las que no aparece Anatomía de Grey).
En cuanto a comedias, la nota más destacada es que Flight of the Conchords obtiene la primera nominación importante desde su comienzo. The office, además de nominada a mejor comedia, coloca 3 episodios en la categoría de mejor episodio de comedia, todo un éxito.
En la categoría de nuevas series, dos claras favoritas: Damages y Pushing daisies, dos series que están teniendo una gran acogida por parte de la crítica especializada.
Los nominados en las categorías más importantes son:
Drama
Dexter–Showtime
Friday Night Lights–NBC
Mad Men–AMC
The Sopranos–HBO
The Wire–HBO
Comedia
Curb Your Enthusiasm–HBO
Flight Of The Conchords–HBO
The Office–NBC
30 Rock–NBC
Entourage–HBO
Nueva serie
Damages–FX
Flight Of The Conchords–HBO
Mad Men–AMC
Pushing Daisies–ABC
The Sarah Silverman Program–Comedy Central
Episodio (Drama)
"Final Grades" (The Wire)–HBO
"The Second Coming" (The Sopranos)–HBO
"The Round File" (The Closer)–TNT
"Flashes Before Your Eyes" (Lost)–ABC
"The Hobo Code" (Mad Men)–AMC
"The Dark Defender" (Dexter)–Showtime
 Episodio (Comedia)
"Pie-Lette" (Pushing Daisies)–ABC
"The Job" (The Office)–NBC
"Negotiation" (30 Rock)–NBC
"Local Ad" (The Office)–NBC
"Phyllis's Wedding" (The Office)–NBC
"Sally Returns" (Flight of the Conchords)–HBO
Episodio (Animación)
"The Haw-Hawed Couple" (The Simpsons)–FOX
"The Homer of Seville" (The Simpsons)–FOX
"Kill Gil Volumes 1&2" (The Simpsons)–FOX
"Stop or My Dog Will Shoot!" (The Simpsons)–FOX
"The Passion of the Dauterive" (King of the Hill)–FOX
"Lucky's Wedding Suit" (King of the Hill)–FOX