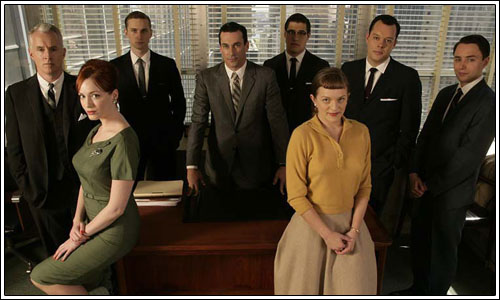 Ya sabemos que cuando se acercan estas fechas todos los medios se apresuran a sacar listas de lo mejor y peor del año. La revista Time no ha querido ser menos y ha elegido las mejores series del 2007, tanto las que se han estrenado este año por primera vez como las que volvían a la parrilla televisiva.
En cuanto a las series que se han estrenado esta temporada el podio lo ocupan Mad men y dos series de la HBO: Flight of the Conchords y Tell me you love me. Lo más sorprendente es el quinto lugar de Pushing daisies, a la que casi todos los críticos alaban como la mejor serie que se ha estrenado esta temporada.
Respecto a las series que volvían, Los Soprano vuelve a superar a todas sus competidoras y queda como la mejor serie del 2007, seguida de Perdidos y Rockefeller Plaza. Me alegra especialmente que se acuerden de The shield como una de las 10 mejores series, ya que me parece una de las mejores series de policías de la historia y no suele ser muy reconocida en este tipo de listas.
Las 10 mejores nuevas series del 2007:
Mad men (AMC)
Flight of the Conchords (HBO)
Tell me you love me (HBO)
Planet Earth (Discovery Channel)
Pushing daisies (ABC)
The Sarah Silverman Program (Comedy Central)
The Riches (FX)
Yo Gabba Gabba! (Nickelodeon)
The War (PBS)
Kid Nation (CBS)
Las 10 mejores series que volvían a la televisión del 2007:
Los Soprano (HBO)
Perdidos (ABC)
Rockefeller Plaza (NBC)
Friday night lights (NBC)
Big love (HBO)
The office (NBC)
The Colbert Report (Comedy Central)
The shield (FX)
Weeds (Showtime)
Top chef (bravo)