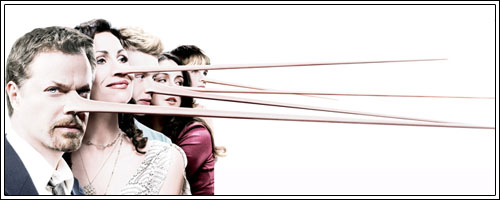 Otra que se va al cielo de las series. Esta vez le ha tocado el turno a The Riches, que ha sido cancelada por la FX después de dos temporadas en antena, la última de las cuales tan solo contó con siete episodios debido a la huelga de guionistas.
Aunque la serie tuvo un buen arranque y consiguió nominaciones a los Emmy y los Globos de Oro para su protagonista Minnie Driver, el descenso de casi el 50% de audiencia en su segunda temporada la ha condenado.
The Riches, protagonizada por Minnie Driver y Eddie Izzard, nos cuenta como una familia que se dedica a las pequeñas estafas pasa a suplantar la identidad de una acaudalada familia.
Por otra parte, la cadena ha ordenado una segunda temporada de trece episodios para Sons of Anarchy cuando tan solo se llevan emitidos cinco episodios de la primera.
La serie protagonizada por Ron Perlman, Charlie Hunnam y Katey Sagal está resultando la serie con más audiencia de la cadena desde Rescue me con una media de más de cinco millones de espectadores a la semana.