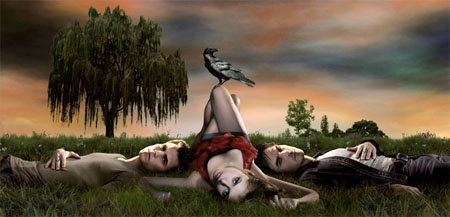 La cadena CW ha anunciado la renovación de cuatro de sus series de cara a la próxima temporada. Las elegidas han sido The Vampire Diaries, Sobrenatural, Gossip Girl y 90210.
La renovación de The Vampire Diaries y Sobrenatural no ha supuesto ninguna sorpresa, ya que la primera sigue siendo la serie más vista de la CW y la segunda ha mejorado sus números después de haber sido trasladada a la noche de los viernes. 90210 y Gossip Girl no gozan de tanta audiencia como las anteriores pero se mueven bien entre el público joven femenino.
Después de estas renovaciones, la CW todavía debe desvelar el futuro de otras tres series: One Tree Hill, Nikita y Hellcats. La veterana One Tree Hill apunta fuerte a la renovación después de que se haya hecho público que algunos de sus actores ya han firmado contratos para una supuesta novena temporada. Nikita y Hellcats son las que tienen menos posibilidades de no volver la próxima temporada, aunque siempre cabe la posibilidad de que la cadena prefiera mantenerlas y no arriesgarse con nuevos proyectos.
Fuente: EW.