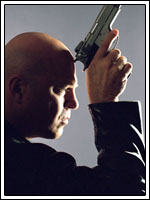 O eso es al menos lo que piensan los editores de salon.com, que otorgan anualmente los premios Buffy, que homenajean desde el 2004 a la serie más subestimada de la temporada.
Como decimos, este año le ha tocado el turno a The shield, el drama policiaco del canal FX que nos muestra el día a día del "equipo de asalto", una unidad especial de policía liderada por el detective Vic Mackey, al que da vida un gran Michael Chiklis (ganador de un Emmy y un Globo de Oro por su interpretación), que con unos métodos nada ortodoxos trata de atajar la delincuencia de Farmington a la vez que intentan ganar algo de dinero extra mediante turbios negocios.
La lista de series anteriormente galardonadas en la corta trayectoria de estos premios está formada por The wire (2004), Veronica Mars (2005), Galactica (2006) y Friday night lights (2007).