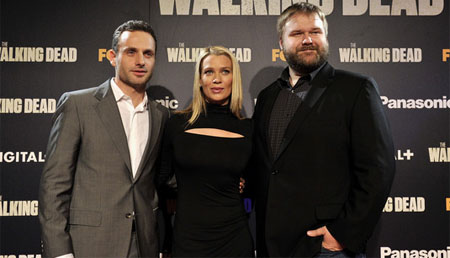 Robert Kirkman, creador del cómic en el que se basa The Walking Dead y uno de los productores de la serie de la AMC, ya tiene un nuevo proyecto entre manos. Kirkman ha llegado a un acuerdo con Fox International Channels para desarrollar una nueva serie centrada en el mundo de los exorcismos.
Este nuevo proyecto, basado en uno de sus propios cómics todavía no publicado, estará centrado en Kyle Barnes, un joven que ha sido acosado por espíritus malignos desde que era un niño y ya adulto inicia un viaje espiritual para encontrar respuestas, pero lo que descubre es algo que podría suponer el fin de la vida en la Tierra tal como la conocemos.
Este no es el único nuevo proyecto en el que está trabajando el creador de The Walking Dead, ya que Kirkman también se encuentra enfrascado en Thief of Thieves, otra adaptación para el canal por cable AMC de uno de sus cómics centrada en Conrad Paulson, un ladrón de guante blanco de talla mundial que, al no ser capaz de abandonar por completo su estilo de vida por haberse vuelto adicto a los robos, decide usar sus habilidades para robar solo a otros ladrones en un intento de reconciliarse con su mujer y su hijo.
Fuente: Deadline.