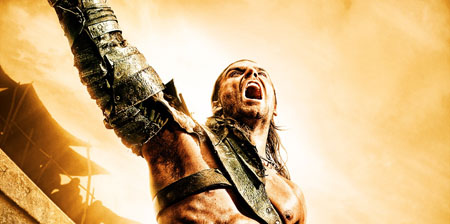 La cadena Starz ha presentado un nuevo adelanto de Spartacus: Gods of the Arena. En este nuevo adelanto, además de una introducción por parte de Steven S. DeKnight (creador de la serie), también podemos ver algunas imágenes nuevas de esta miniserie de seis episodios de duración que servirá de precuela de la primera temporada de Spartacus: Blood and Sand.
Spartacus: Gods of the Arena, cuyo estreno está previsto para el próximo 21 de enero de 2011, estará centrada en un periodo anterior a la llegada de Spartacus a la escuela de gladiadores de Batiatus. Además de volver a ver a los personajes interpretados por John Hannah (Batiatus), Lucy Lawless (Lucretia), Peter Mensah (Oenomaus) y Manu Bennett (Crixus), también habrá nuevas incorporaciones al reparto como las de Dustin Clare, Jaime Murray y Marisa Ramirez.
Podéis ver este nuevo adelanto después del salto.