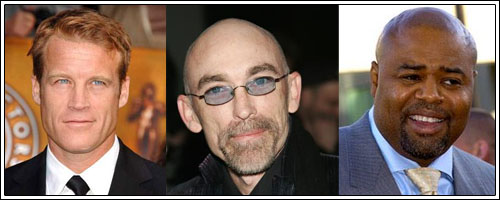 Mientras que cadenas como Showtime rechazan todos los pilotos que caen en sus manos otras no paran de ordenar series para la próxima temporada. Una de estas cadenas es la Fox que esta misma semana ha dado luz verde a la producción de tres nuevas series: Human Target, Sons of Tucson y Past Life.
Human Target está basada en el comic del mismo nombre y se centra en un guardaespaldas que asume la identidad de sus clientes para protegerlos. El protagonista de la serie es Mark Valley, al que hemos podido ver en algunos episodios de la primera temporada de Fringe, y también aparecerá el actor Jackie Earle Haley, que interpretó a Rorschach en la reciente Watchmen.
Sons of Tucson es una comedia en la que tres jóvenes hermanos contratan a un estafador para que se haga pasar por su padre cuando éste es condenado a prisión. El papel del falso padre será interpretado por Tyler Labine, que interpreta a Sock en Reaper, por lo que todo apunta que la CW no renovará esta última.
La última serie en ser anunciada ha sido Past Life, un drama que sigue a un equipo de detectives que utilizan la terapia de regesión y la teoría de la reencarnación para resolver sus casos.