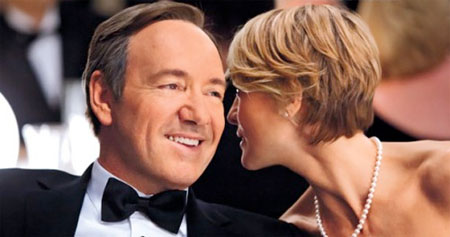 El portal Netflix ha presentado el tráiler de House of Cards, la primera serie de producción propia de la compañía especializada en contenidos en streaming que ha sido producida por David Fincher,  director de películas como El club de la lucha o La red social, que también se ha puesto detrás de las cámaras de los dos primeros capítulos.
Netflix, que ha invertido un total de 100 millones de dólares en la producción de dos temporadas de 13 episodios cada una, estrenará la primera temporada completa de House of Cards el 1 de febrero del próximo año.
House of Cards, basada en la miniserie británica del mismo nombre, está protagonizada por Kevin Spacey en el papel del Francis Underwood, un congresista dispuesto a todo para llegar a lo más alto de la política americana. Robin Wright completa la pareja protagonista dando vida a Claire, la ambiciosa mujer de Francis.
Podéis ver el tráiler de House of Cards después del salto.