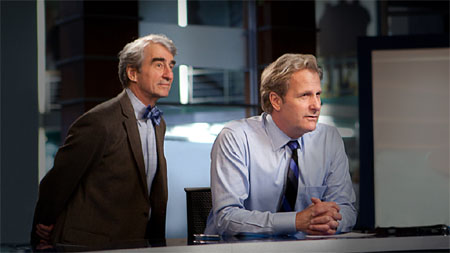 La HBO ha lanzado el tercer tráiler de The Newsroom, la nueva serie de Aaron Sorkin, creador de El Ala Oeste y ganador de un Oscar por el guión de La Red Social, cuyo estreno está programado para el próximo 24 de junio.
Al igual que Studio 60, el anterior proyecto televisivo de Sorkin, The Newsroom está centrado en la producción de un programa de televisión, en este caso un espacio de noticias. La serie está protagonizada por Jeff Daniels como el presentador y la británica Emily Mortimer como la productora del programa. Junto a ambos, tambien forman parte del reparto de The Newsroom Jon Tenney, Sam Waterston, Olivia Munn, John Gallagher Jr., Dev Patel, Alison Pill y Thomas Sadoski, así como la veterana Jane Fonda, que interpretará a la directora ejecutiva de la cadena de televisión a la que pertenece el canal de noticias donde trabajan los protagonistas de The Newsroom.
Podéis ver el tercer tráiler de The Newsroom después del salto.