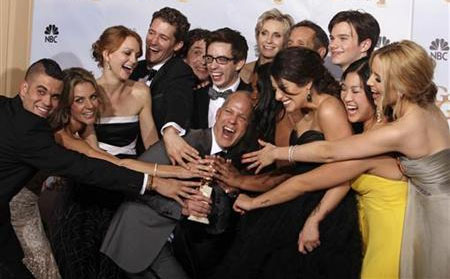 Esta pasada madrugada ha tenido lugar en Beverly Hills la 67ª edición de los Globos de Oro, los premios que anualmente entrega la Asociación de Prensa Extranjera de Hollywood.
La (relativa) sorpresa de la noche la ha dado Glee al hacerse con el premio a la mejor comedia, destronando así a veteranas de la categoría como 30 Rock o The Office.
En cuanto a mejor drama, no ha habido lugar a sorpresas ya que Mad Men se ha hecho por tercer año consecutivo con el galardón.
Respecto a mejor actor de drama, Michael C. Hall ha conseguido por fin el premio en su cuarta nominación consecutiva. También John Lithgow, su compañero de reparto en la cuarta temporada de Dexter, se ha llevado el premio al mejor actor secundario.
En comedia, Alec Baldwin ha vuelto a ganar por tercera vez el premio de mejor actor por su interpretación de Jack Donaghy en Rockefeller Plaza.
En cuanto a las actrices, Julianna Margulis se ha hecho con el premio a mejor actriz dramática por su papel protagonista en The Good Wife, mientras que Toni Collette ha ganado el de mejor actriz de comedia por United States of Tara.
Chloë Sevigny ha sido la ganadora del premio a la mejor actriz secundaria por su papel en Big Love.
Grey Gardens se ha llevado dos premios: mejor miniserie o película hecha para televisión y mejor actriz para Drew Barrymore. Kevin Bacon, por su interpretación en Taking Chance, ha conseguido el premio a mejor actor de película hecha para tv.