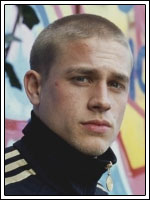 Ya os hemos ido hablando de Sons of Anarchy, la serie de moteros que estaba preparando Kurt Sutter, el productor ejecutivo de The shield. Finalmente la cadena FX ha dado luz verde a la producción de 13 episodios que empezarán a rodarse en junio de este año para estrenarla en septiembre.
Sons of Anarchy estará protagonizada por Charlie Hunnam, al que pudimos ver en la película Children of men, en el papel de Jackson "Jax" Teller, miembro de la banda de moteros que da título a la serie, que empieza a preocuparse de las actividades ilegales en las que están involucrados sus miembros.  Además intentará proteger su ciudad, la ficticia Charming en el estado de California, de promotores inmobiliarios que tratan de llevar a cabo una urbanización salvaje.
El reparto de Sons of Anarchy lo completan Katey Sagal, como la madre del protagonista; Scott Glenn, que da vida al jefe de la banda y padrastro Jax; Drea de Matteo (Los Soprano) y Maggie Siff (Mad men).
Sons of Anarchy no es la única serie centrada en el mundo de las bandas de motoristas que se está preparando, ya que la HBO también está trabajando en una de temática similar llamada 1%.