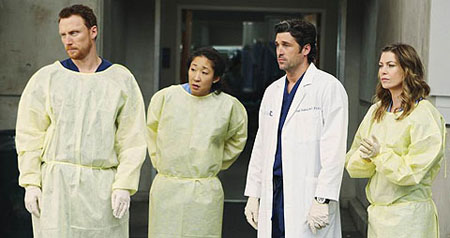 La cadena ABC ha ordenado la renovación de seis de sus series de cara a la próxima temporada. Las series que se han asegurado su continuidad son Anatomía de Grey, Private Practice, Castle, Modern Family, Cougar Town y The Middle.
La renovación de Anatomía de Grey y Modern Family no ha supuesto ninguna sorpresa ya que son el drama y la comedia más vistos entre los televidentes de 18 a 49 años (la franja más codiciada por los anunciantes). Castle y Private Practice tampoco tenían mucho que temer ya que ambas se mueven entre los 10 millones de espectadores, mientras que la continuidad de Cougar Town y The Middle si que estaba en entredicho.
La serie que todavía no ha recibido luz verde a su renovación ha sido Mujeres Desesperadas. Además de la caída de espectadores respecto a la pasada temporada (en torno a un 20%), la ABC también está pendiente de la continuidad de algunas actrices del reparto que todavía no han firmado sus nuevos contratos.