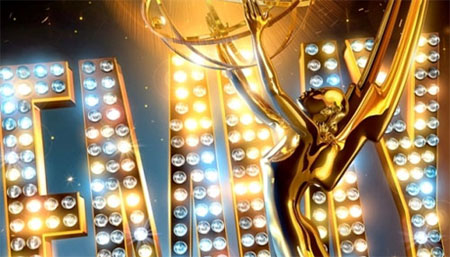 Esta madrugada ha tenido lugar en el Teatro Nokia de Los Angeles la 65ª edición de los Emmy, los premios anuales que honran a los mejores programas y series de televisión. En esta nueva edición, Neil Patrick Harris ha sido el encargado de conducir la ceremonia que ha coronado a Breaking Bad y Modern Family como el mejor drama y la mejor comedia de la temporada respcetivamente.
En cuanto a actores principales, Jim Parsons se ha hecho con el galardón al mejor actor de comedia por su papel en The Big Bang Theory superando a Don Cheadle (House of Lies), Jason Bateman (Arrested Development), Matt LeBlanc (Episodes), Alec Baldwin (30 Rock) y Louis C.K. (Louie). Julia Louis-Dreyfus (Veep) repite como mejor actriz de comedia donde competía con Laura Dern (Enlightened), Edie Falco (Nurse Jackie), Amy Poehler (Parks and Recreation), Lena Dunham (Girls) y Tina Fey (30 Rock).
En drama, Jeff Daniels (The Newsroom) se ha alzado como mejor actor principal imponiéndose a Bryan Cranston (Breaking Bad), Jon Hamm (Mad Men), Hugh Bonneville (Downton Abbey), Kevin Spacey (House of Cards) y Damian Lewis (Homeland). Claire Danes ha cumplido los pronósticos logrando hacerse con el segundo Emmy consecutivo a la mejor actriz de drama por su papel en Homeland superando a Elisabeth Moss (Mad Men), Connie Britton (Nashville), Michelle Dockery (Downton Abbey), Vera Farmiga (Bates Motel), Kerry Washington (Scandal) y Robin Wright (House of Cards).
Como actores secundarios, Bobby Cannavale ha sido premiado por su papel en Boardwalk Empire y Tony Hale se ha hecho con el galardón por su interpretación en Veep. Merritt Wever se ha hecho con el Emmy a la mejor actriz secundaria de comedia por su papel en Nurse Jackie y Anna Gunn (Breaking Bad) se ha alzado con el de mejor secundaria de drama.
El galardón ha la mejor miniserie o película hecha para la televisión ha sido para Behind the Candelabra, que también se ha hecho con el premios a la mejor dirección y al mejor actor, que ha ido a parar a Michael Douglas. Laura Linney (The Big C: hereafter) han sido elegida como mejor actriz principal en esta categoría. En secundarios, los triunfadores han sido James Cromwell y Ellen Burstyn por sus papeles en American Horror Story: Asylum y Political Animals respectivamente.