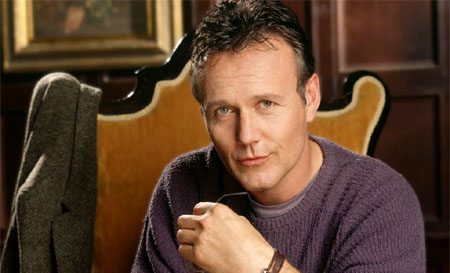 El actor británico Anthony Head, conocido fundamentalmente por dar vida al bibliotecario Rupert Giles en Buffy cazavampiros, es la nueva incorporación al reparto de Dominion, un nuevo piloto del canal SyFy que servirá de secuela de Legión, la película del año 2010 protagonizada por Dennis Quaid, Paul Bettany y Adrianne Palicki.
Dominion, escrita por Vaun Wilmott (Sons of Anarchy), estará ambientada 25 años después de una guerra entre los ángeles y la humanidad que ha devastado el mundo y se centrará en el viaje de Alex Lannen, al que dará vida Christopher Egan, un joven soldado que podría ser el salvador de la raza humana. Anthony Head interpretará el papel del Presidente del Senado de Vega (antiguamente conocida como Las Vegas), una de las pocas ciudades que han quedado en pie después de la guerra.
Junto con la incorporación de Anthony Head al reparto de Dominion, también se han anunciado los fichajes de Roxanne McKee (Juego de Tronos), que interpretará a una joven perteneciente a una de las familias más poderosas de Vega; Luke Allen-Gale (The Borgias), que dará vida al heredero de otra importante familia; y Shivani Ghai (House of Saddam), que interpretará el papel de una diplomática extranjera.
Estas cuantro incorporaciones se unen a las ya anunciadas de Alan Dale (Perdidos), que dará vida a Rysen, el general que lideró a la humanidad frente a los ángeles y que ahora es el gobernador de Vega; y Tom Wisdom (300), que interpretará el papel de Miguel, el arcángel que ayudó a la humanidad contra sus hermanos y que ahora vive en Vega usando sus poderes para defender la ciudad de sus enemigos.
Fuente: Deadline.