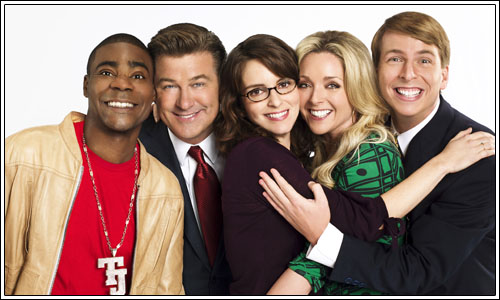 30 Rock ha hecho historia en los Emmy. La serie protagonizada por Tina Fey y Alec Baldwin ha conseguido 22 nominaciones, lo que la convierte en la comedia que más nominaciones acapara en una misma edición de estos premios concedidos por Academia de Artes y Ciencias de la Televisión. La serie de la NBC vuelve a estar nominada como mejor comedia, mejor actor (Baldwin) y mejor actriz (Fey), premios que ya ganó en la anterior edición.
En cuanto a dramas, tampoco hay nada nuevo. Mad Men, la serie estrella de la AMC, vuelve a posicionarse como gran favorita consiguiendo la nada despreciable cifra de 16 nominaciones, entre ellas las de mejor drama, mejor actor (Jon Hamm) y mejor actriz (Elisabeth Moss). Curiosamente, Jon Hamm también está nominado como actor invitado por su papel en 30 Rock.
Acompañando a 30 Rock en la nominación como mejor comedia se encuentran Weeds, Cómo conocí a vuestra madre, The Office (la eterna aspirante), Flight of the Conchords, Entourage y Padre de familia, que se convierte en la segunda serie animada en conseguir una nominación como mejor serie cómica tras Los Picapiedra en 1961.
En dramas, además de Mad Men, también competirán Breaking Bad (la otra joya de la AMC), Big Love, Damages, Dexter, House y Lost. The Shield, que era favorita para estar entre las nominadas después de su estupenda última temporada, se ha quedado fuera de la lista.
En cuanto a mejor actor de comedia, además de Alec Baldwin, también se encuentran nominados Jim Parsons por The Big Bang Theory, Jemaine Clement por Flight of the Conchords, Tony Shalhoub por Monk, Steve Carell por The Office y Charlie Sheen por Dos hombres y medio.
Con Tina Fey compiten como mejor actriz de comedia Julia Louis-Dreyfus por The New Adventures of Old Christine, Christina Applegate por Samantha Who?, Toni Collette por United States of Tara, Mary-Louise Parker por Weeds y Sarah Silverman por The Sarah Silverman Program.
Entre los nominados a mejor actor de drama, además de Jon Hamm, se encuentran Bryan Cranston por Breaking Bad (ganador de la edición anterior), Michael C. Hall por Dexter, Hugh Laurie por House, Gabriel Byrne por In Treatment y Simon Baker por El Mentalista.
Las nominadas como mejor actriz de drama son Sally Field por Cinco Hermanos, Kyra Sedgwick por The Closer, Glenn Close por Damages (ganadora el año pasado), Mariska Hargitay por Ley y Orden: Unidad de Víctimas Especiales, Holly Hunter por Saving Grace y, la ya mencionada, Elisabeth Moss por Mad Men.
En cuanto a cadenas, la HBO ha sido la que más nominaciones ha acaparado con un total de 99, seguida por la NBC que "solo" ha conseguido 67.
La ceremonia de entrega de los Emmy tendrá lugar el próximo 20 de septiembre en Los Angeles y será presentada por Neil Patrick Harris.