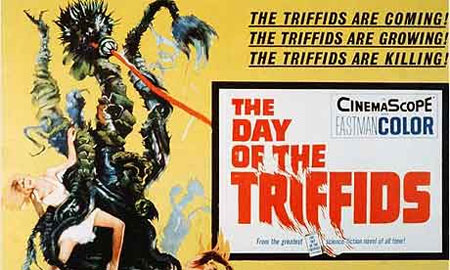 La BBC ha lanzado tres trailers de The Day Of The Triffids, la miniserie basada en la novela del mismo nombre de John Wyndham y que ya fue adaptada a la pequeña pantalla por la cadena británica en 1981.
The Day Of The Triffids se centra en la lucha del doctor Bill Masen por acabar con los trífidos, unos plantas creadas para desarrollar un nuevo combustible que, cuando gran parte de la población se queda ciega debido a una tormenta solar, se revelan como una gran amenaza contra la especie humana.
Esta nueva miniserie, que será emitida en el Reino Unido los próximos 28 y 29 de diciembre, cuenta con un gran reparto entre el que destaca la presencia de Dougray Scott (Mujeres Desesperadas), Joely Richardson (Nip Tuck), Brian Cox (Kings, Deadwood), Eddie Izzard (The Riches) o Vanessa Redgrave.
Después del salto podéis ver los tres trailers.