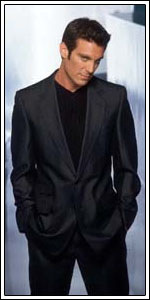 Algunos de vosotros seguro que recordáis una serie de los 90 llamada The pretender, que en España se emitió con el título de Ladrones de identidad. La serie fue emitida por Antena 3 y Fox aunque sin mucho éxito entre la audiencia. Una lástima porque era bastante interesante.
The pretender, emitida desde 1996 al 2000 por la NBC, contaba la historia de Jarod, un hombre con la habilidad de adoptar cualquier identidad y desempeñar cualquier oficio. Jarod fue entrenado desde niño por una organización llamada El Centro, que aprovechó sus habilidades para beneficio propio. Pero al descubrir los objetivos del Centro, Jarod escapa y empieza a buscar a su auténtica familia mientras evita los intentos del Centro por capturarle y ayuda a gente necesitada (como el Equipo A, vamos).
Pues bien, según han comentado los creadores de la serie, Steve Long Mitchell y Craig Van Sickle, en el preestreno de Tin man (de la que son productores y guionistas), quieren resucitar The pretender, aunque no a través de la televisión convencional sino posiblemente a través de internet y rodada en formato digital. A ver si se lleva a cabo este proyecto.