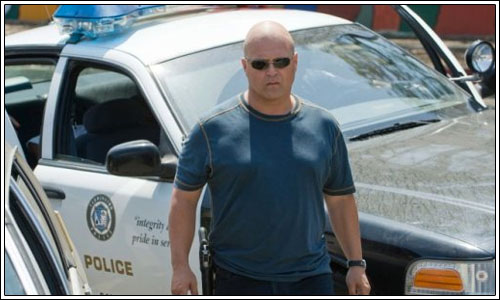 La Asociación de Críticos de Televisión (Television Critics Association ) ha anunciado los nominados para los premios que conceden anualmente, los TCA Awards. La ceremonia de entrega tendrá lugar el próximo 1 de agosto en Pasadena.
La gran triunfadora de estas nominaciones ha sido The Shield, cuya última temporada ha conseguido cuatro nominaciones, incluída la de mejor programa del año.
Junto con The Shield, las nominadas para mejor programa del año han sido Mad Men, Lost, Galactica y Saturday Night Live.
Podéis ver todas la nominaciones después del salto.
Programa del año:
-Galactica
-Lost
-Mad Men
-Saturday Night Live
– The Shield
Comedia:
-30 Rock
-The Big Bang Theory
-The Daily Show
-Cómo conocí a vuestra madre
-The Office
Drama:
-Breaking Bad
-Friday Night Lights
-Lost
-Mad Men
-The Shield
Películas, miniseries y especiales:
-Cobertura Olimpiadas 2008
-24: Redemption
-Generation Kill
-Grey Gardens
-Taking Chance
Nuevo programa del año:
-Fringe
-El mentalista
-No. 1 Ladies' Detective Agency
-True Blood
-United States of Tara
Interpretación en comedia:
-Alec Baldwin (30 Rock)
-Steve Carell (The Office)
-Tina Fey (30 Rock)
-Neil Patrick Harris (Cómo conocí a vuestra madre)
-Jim Parsons (The Big Bang Theory)
Interpretación en drama:
-Glenn Close (Damages)
-Bryan Cranston (Breaking Bad)
-Walton Goggins (The Shield)
-Jon Hamm (Mad Men)
-Hugh Laurie (House)
Programa infantil:
-Camp Rock
-The Electric Company
-Nick News
-Sid the Science Kid
-Yo Gabba Gabba
Noticias e información:
-60 minutes
-The Alzheimer's Project
-Frontline
-The Rachel Maddow Show
-We Shall Remain
Heritage Award:
-Urgencias
-M*A*S*H
-Saturday Night Live
-The Shield
-Star Trek