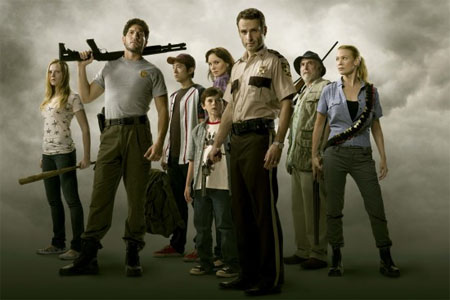 La Academia de películas de Ciencia-Ficción, Fantasía y Terror ha anunciado a las películas y series televisivas nominadas para la 37ª edición de los Saturn Awards, cuya ceremonia de entrega no tendrá lugar hasta el próximo mes de junio.
La gran dominadora de estas nominaciones ha sido The Walking Dead, que opta a un total de seis premios, aunque incomprensiblmente no se encuentra nominada como mejor serie. Siguen a The Walking Dead, con cinco nominaciones, Breaking Bad, Perdidos y Fringe.
Podéis ver todas la lista completa de nominados a los Saturn Awards después del salto.
Mejor serie en abierto
Fringe
Perdidos
Smallville
Sobrenatural
V
The Vampire Diaries
Mejor serie por cable
Breaking Bad
The Closer
Dexter
Eureka
Las Reglas del Juego
Spartacus: Blood and Sand
True Blood
Mejor actor
Bryan Cranston, Breaking Bad
Matthew Fox, Perdidos
Michael C. Hall, Dexter
Timothy Hutton, Las Reglas del Juego
Andrew Lincoln, The Walking Dead
Stephen Moyer, True Blood
Mejor actriz
Sarah Wayne Callies, The Walking Dead
Erica Durance, Smallville
Elizabeth Mitchell, V
Anna Paquin, True Blood
Kyra Sedgwick, The Closer
Anna Torv, Fringe
Mejor actor secundario
Michael Emerson, Perdidos
John Noble, Fringe
Dean Norris, Breaking Bad
Terry O'Quinn, Perdidos
Aaron Paul, Breaking Bad
Lance Reddick, Fringe
Steven Yeun, The Walking Dead
Mejor actriz secundaria
Morena Baccarin, V
Gina Bellman, Las Reglas del Juego
Jennifer Carpenter, Dexter
Laurie Holden, The Walking Dead
Lucy Lawless, Spartacus: Blood and Sand
Beth Riesgraf, Las Reglas del Juego
Mejor actor invitado
Richard Dreyfuss, Weeds
Noah Emmerich, The Walking Dead
Giancarlo Esposito, Breaking Bad
Joe Manganiello, True Blood
John Terry, Perdidos
Seth Gabel, Fringe
Mejor presentación en TV
Doctor Who: A Christmas Carol
Kung Fu Panda Holiday Special
Los Pilares de la Tierra
Sherlock
Spartacus: Gods of the Arena
The Walking Dead