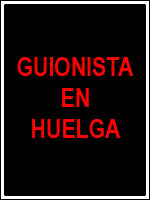 Los guionistas de cine y televisión de Hollywood han decidido votar a favor de una huelga que empezará a final de mes, cuando acabe el actual contrato que tienen con los estudios. Fueron más del 90% de los guionistas pertenecientes al Writers Guild of America los que votaron el jueves pasado a favor de llevar a cabo esta medida de presión.
Los guionistas llevan desde julio negociando con los estudios y productoras sin que se haya cerrado ningún acuerdo. El presidente de la asociación que representa a los estudios (Alliance of Motion Picture and Television Producers), Nick Counter, ha declarado que no le sorprende el resultado de la votación.
Como comentamos hace poco, algunas cadenas han pedido más guiones de determinadas series (Bionic woman, Cane, Aliens in America, Chuck, etc.) por si la huelga finalmente se lleva a cabo.
La última huelga de guionistas en 1988 duró 22 semanas y la industria del cine y la televisión tuvo unas pérdidas de unos 500 millones de dólares.