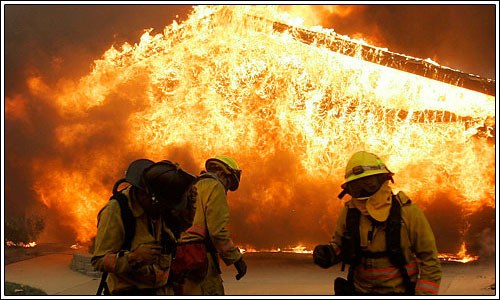 La industria de la televisión no está siendo inmune al impacto de los incendios que asolan estos días California.
Los estudios Santa Clarita, situados en la localidad de Valencia (unos 50 kilómetros al norte de Los Angeles), se han visto afectados por el fuego que asola el estado. Aunque el incendio no ha llegado a los estudios, muchos de los trabajadores no pudieron acudir por los cortes de tráfico que se produjeron en la zona.
Según The Hollywood reporter, Navy: Investigación criminal y The unit, ambas de la CBS y que tienen sus sets en los estudios Santa Clarita, no pudieron rodarse el lunes, aunque el retraso no ha supuesto ningún problema en la producción.
También se ha visto afectada la serie 24, que tuvo que paralizar el rodaje que se estaba llevando a cabo el lunes en un aeródromo de los marines en Irvine (a unos 70 kilómetros de Los Angeles) debido a que el humo impedía respirar con normalidad.