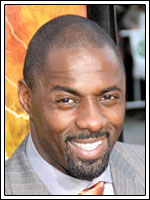 Parece que a Michael Scott (Steve Carell), el director regional de Dunder Mifflin en Scranton, le podría surgir un nuevo rival que, según anuncia Variety, será interpretado por el actor Idris Elba.
Todo parece indicar que esta misma tarde la NBC anunciará durante su conferencia de prensa de TV Critics Assn. que el actor aparecerá en seis episodios de The office al final de la presente temporada.
Aunque ha aparecido en series como Ley y orden o CSI: Miami, el papel televisivo más recordado de Idris Elba es el del narcotraficante Russell "Stringer" Bell en The wire.
En cine, además de su reciente aparición en RocknRolla, también ha intervenido en películas como American Gangster o 28 semanas después.