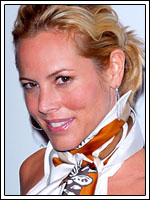 Según Variety, la cadena HBO ha firmado un contrato con la actriz Maria Bello, protagonista de La Momia: La tumba del Emperador Dragón o Una historia de violencia, para que protagonice una nueva serie en el canal de pago.
Esta no será la primera vez que la actriz actúe en la pequeña pantalla, ya que formó parte del reparto de Urgencias durante dos temporadas.
La serie, que todavía no tiene título, será creada y escrita por Gary Lennon, que ha trabajado en series como The shield o The Black Donnellys. Maria Bello interpretará el papel de una madre de familia que se ve obligada a llevar una vida criminal, ayudada por sus tres hijos, cuando su marido es asesinado.
Bello también será productora ejecutiva de la serie junto con el propio Lennon, Gavin Polone y John Carrabino.